Hi there! Back again with another food review. What can I say? I love to eat. George's is a place I'd had my eyes on before it even was announced that it'd be opening in Eldon Square. I'd seen the candy floss gin cocktail floating about on Instagram and immediately stalked their account – and sulked realising there was only one restaurant open in Nottingham.
Fast forward a few months and it was announced that it was opening in Eldon Square. I was pretty damn excited and knew I had to attend. I sent a cheeky email and asked if I could come along to review and I took my foodie friend Gemma from Gemma's Little World along with me. We always take each other along to food reviews, it's kind of become our thing.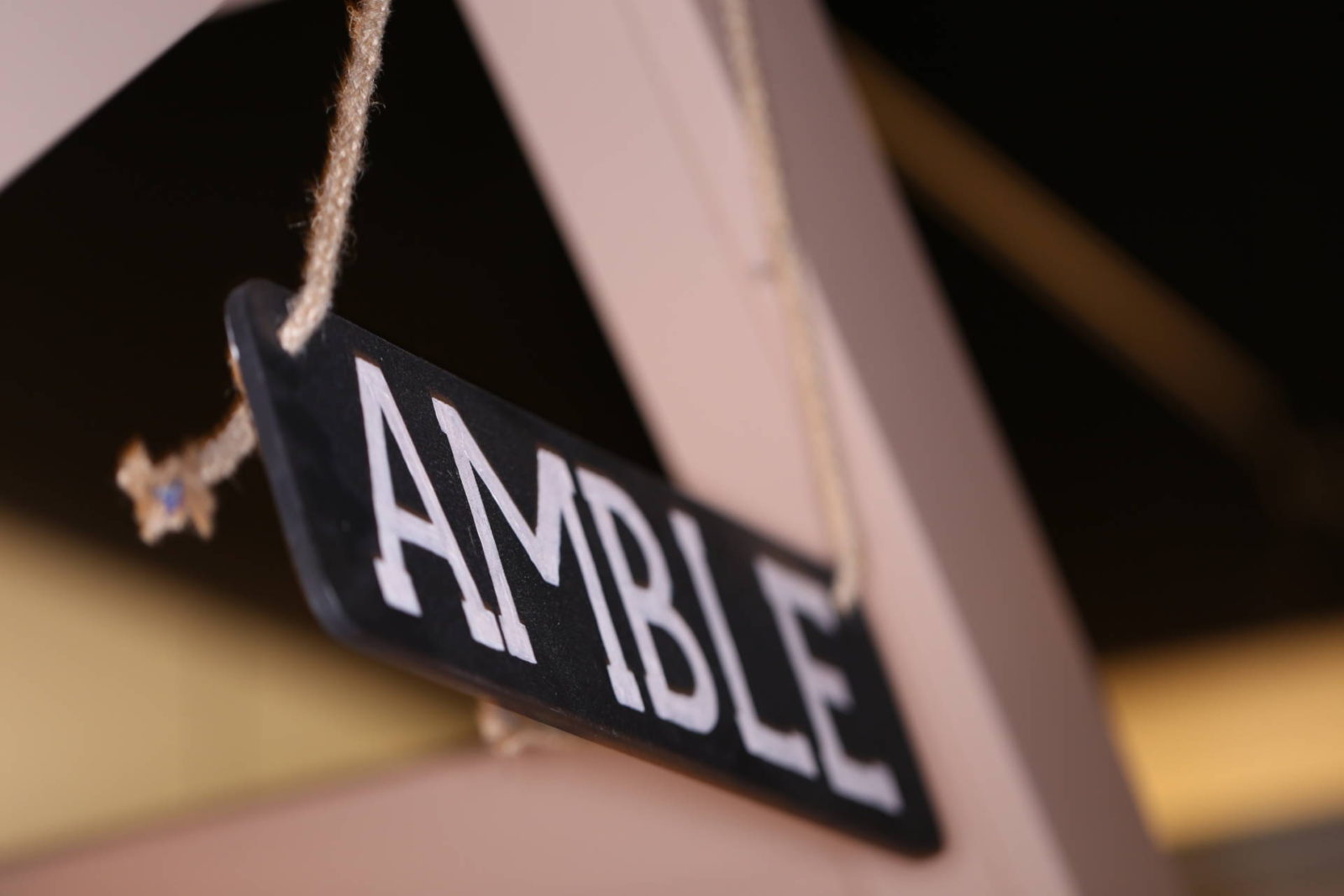 George's are known for their British dishes and sea-side spins on some classic food. Which I LOVE. I grew up by the sea. Fish and Chips with a glass of milk from Colmans was our takeaway of choice. But I wasn't allowed candy floss… 😞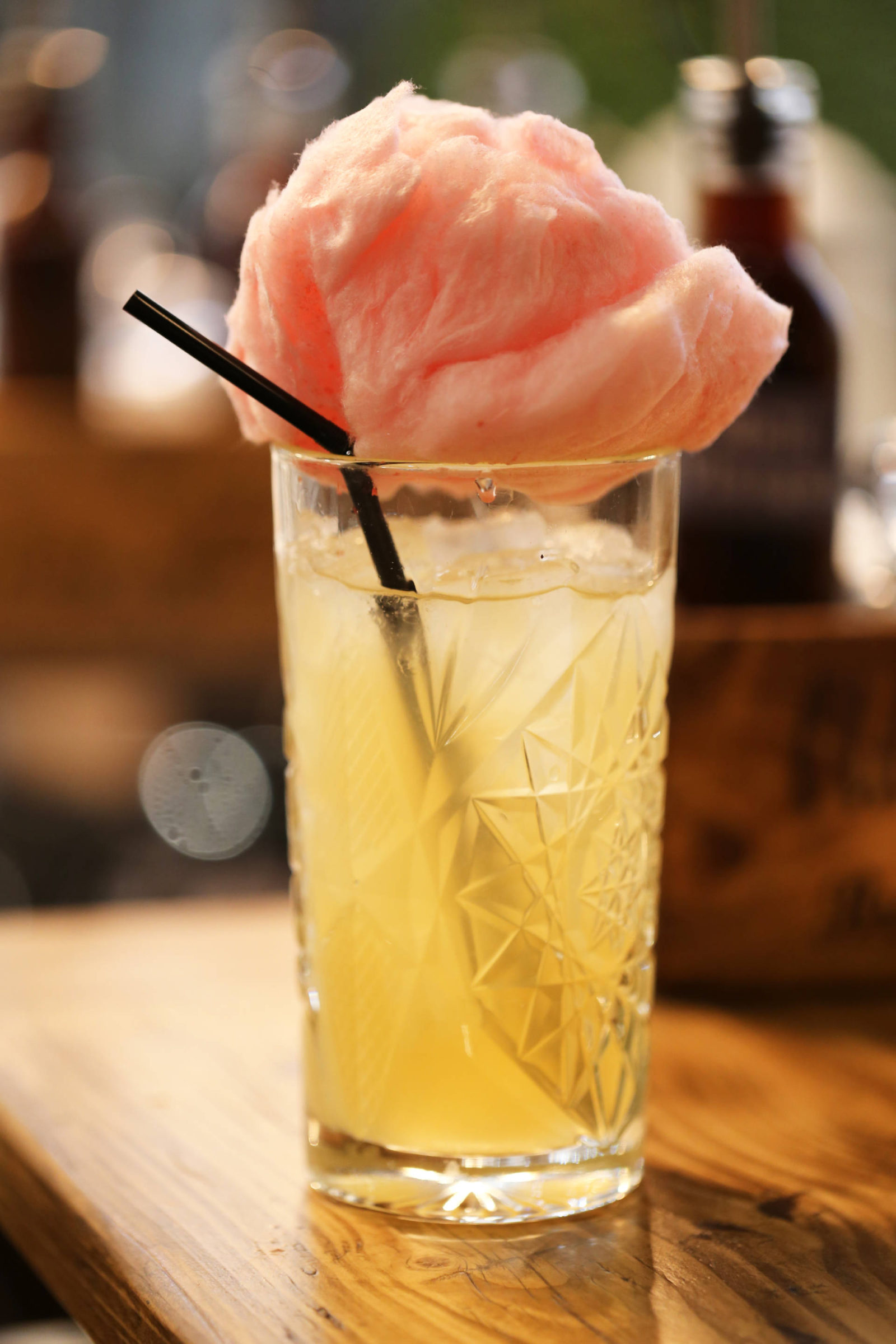 As soon as we arrived we were taken to our seat, which was designed like a beach hut. It was incredibly cute and oh-so Pinterest worthy. Well lit too! We quickly ordered our drinks and I knew immediately what I was going to order. The Candy Annie , using vodka and gin, George's passionfruit syrup, lemon juice and George's own rhubarb and custard, served in a highball glass with a small ball of candy floss. Oh yes. You read that right. Candy floss. With gin. And passion fruit. It tasted as good as it sounds, too. Gemma went for the same, however the non-alcoholic version as she was the DD that night.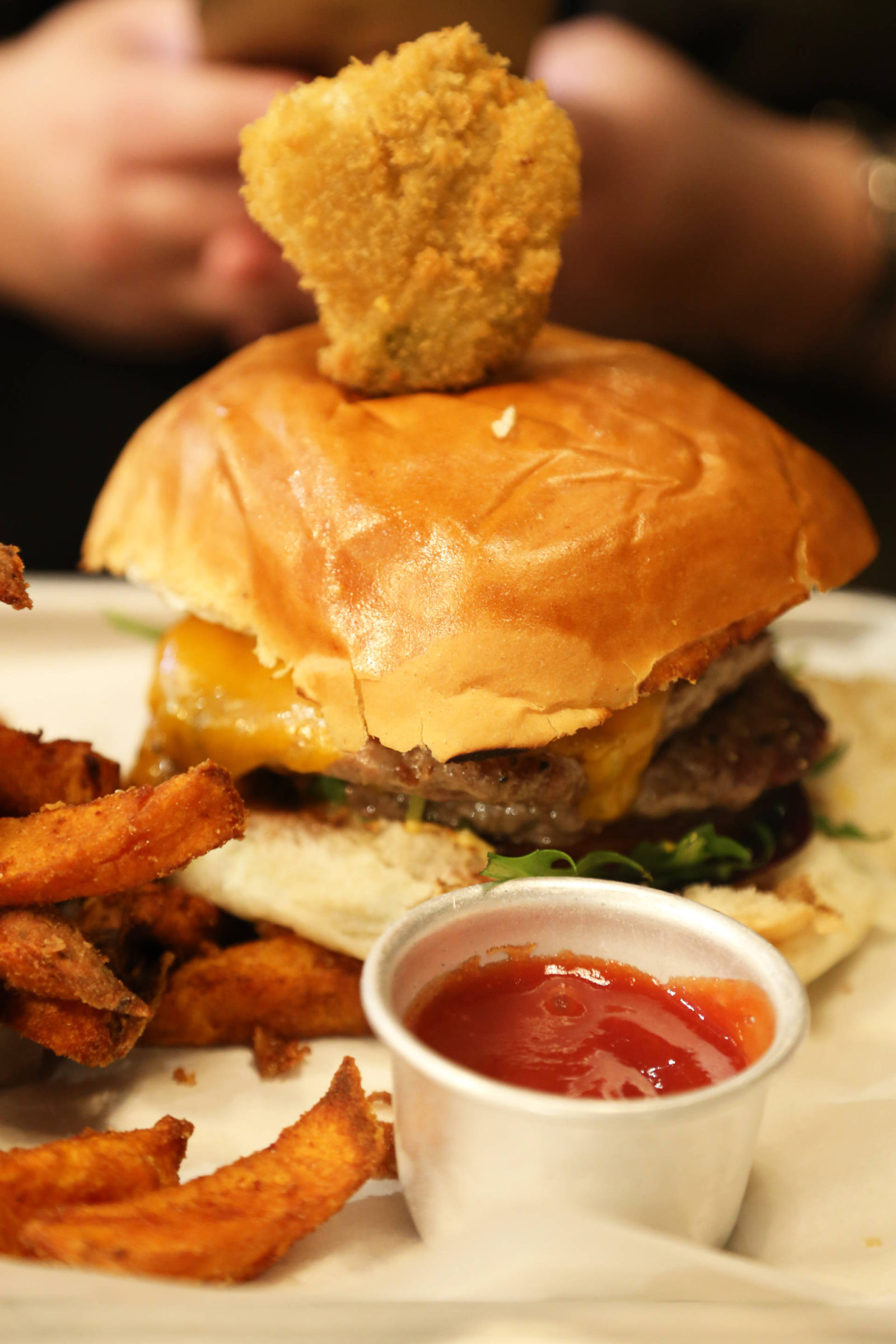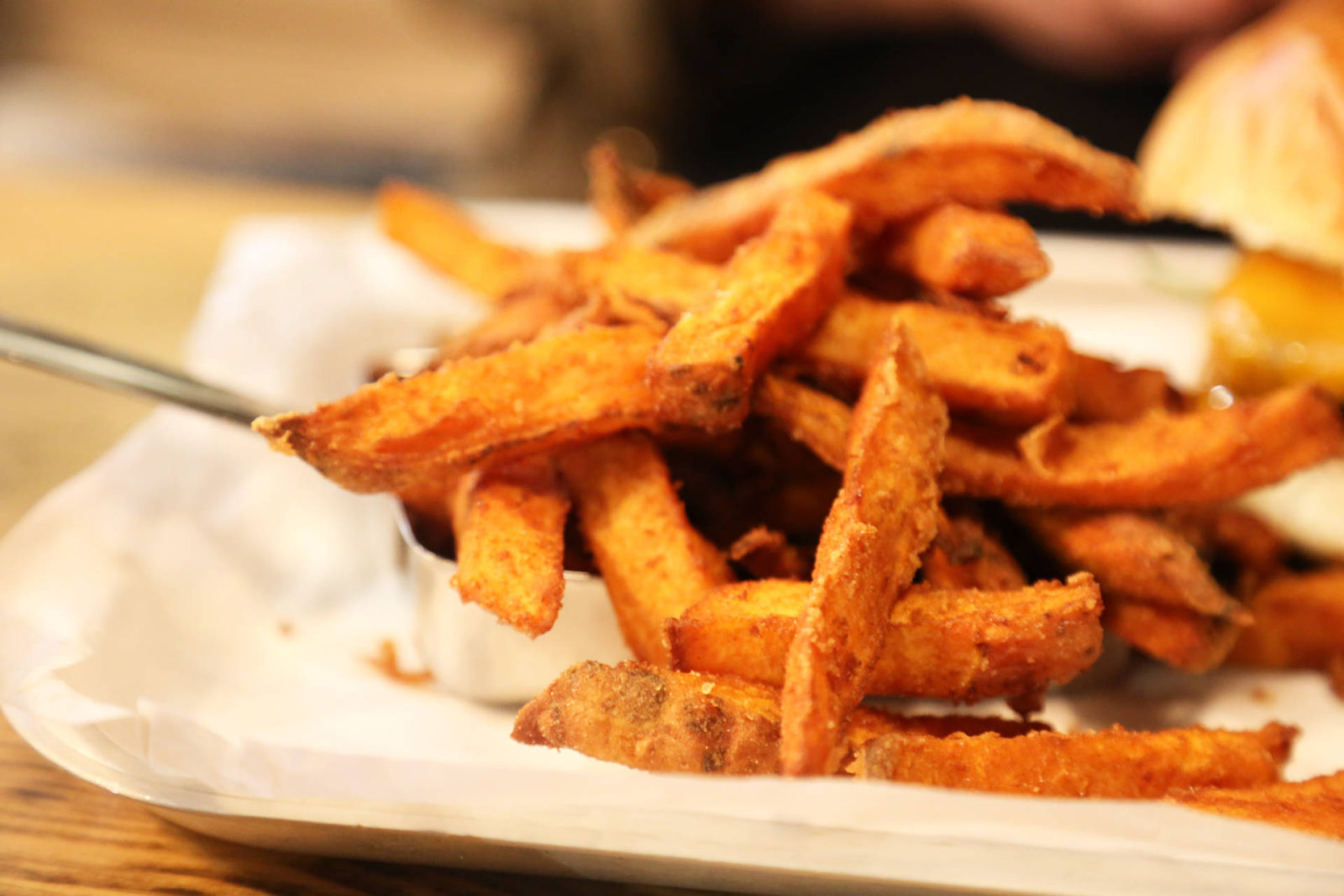 We ordered our food and we opted out of starters, as we weren't hungry enough for them and wanted to focus on dessert. Gemma went for the Proper Dirty Double Burger with Sweet Potato Fries, which George's describe as two burger patties made to our recipe using the finest chuck and brisket, grilled using our charcoal grill and topped with red Leicester. Served in a brioche bun with baby leaf salad, a slice of tomato, thin slices of pickled gherkin, lashings of dirty mayonnaise and tomato ketchup on the side. Topped with a George's frickle… A PROPER burger! That's one busy burger! Gemma enjoyed the burger, it definitely hit the spot. It looked wonderful and I now regret not having a try myself…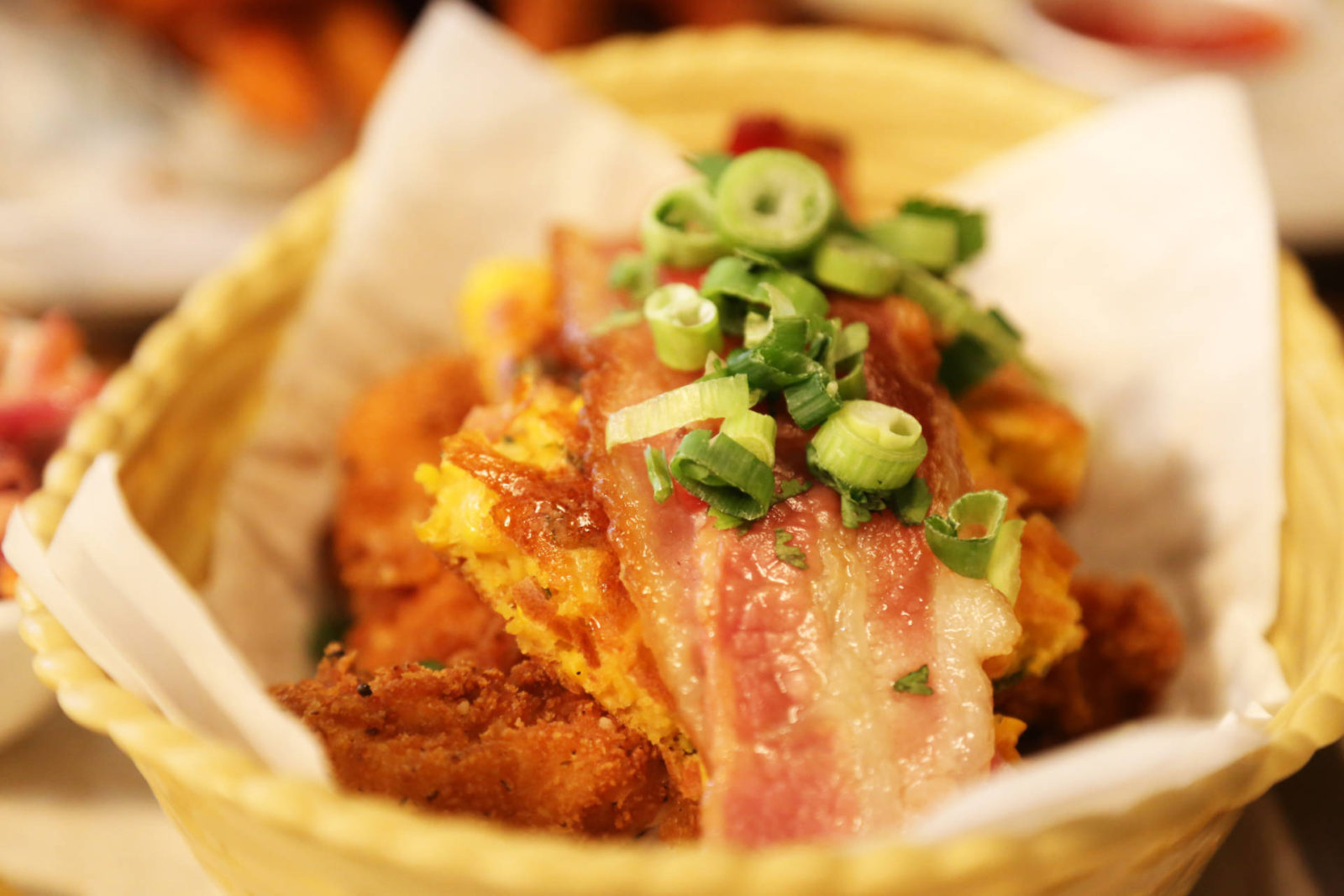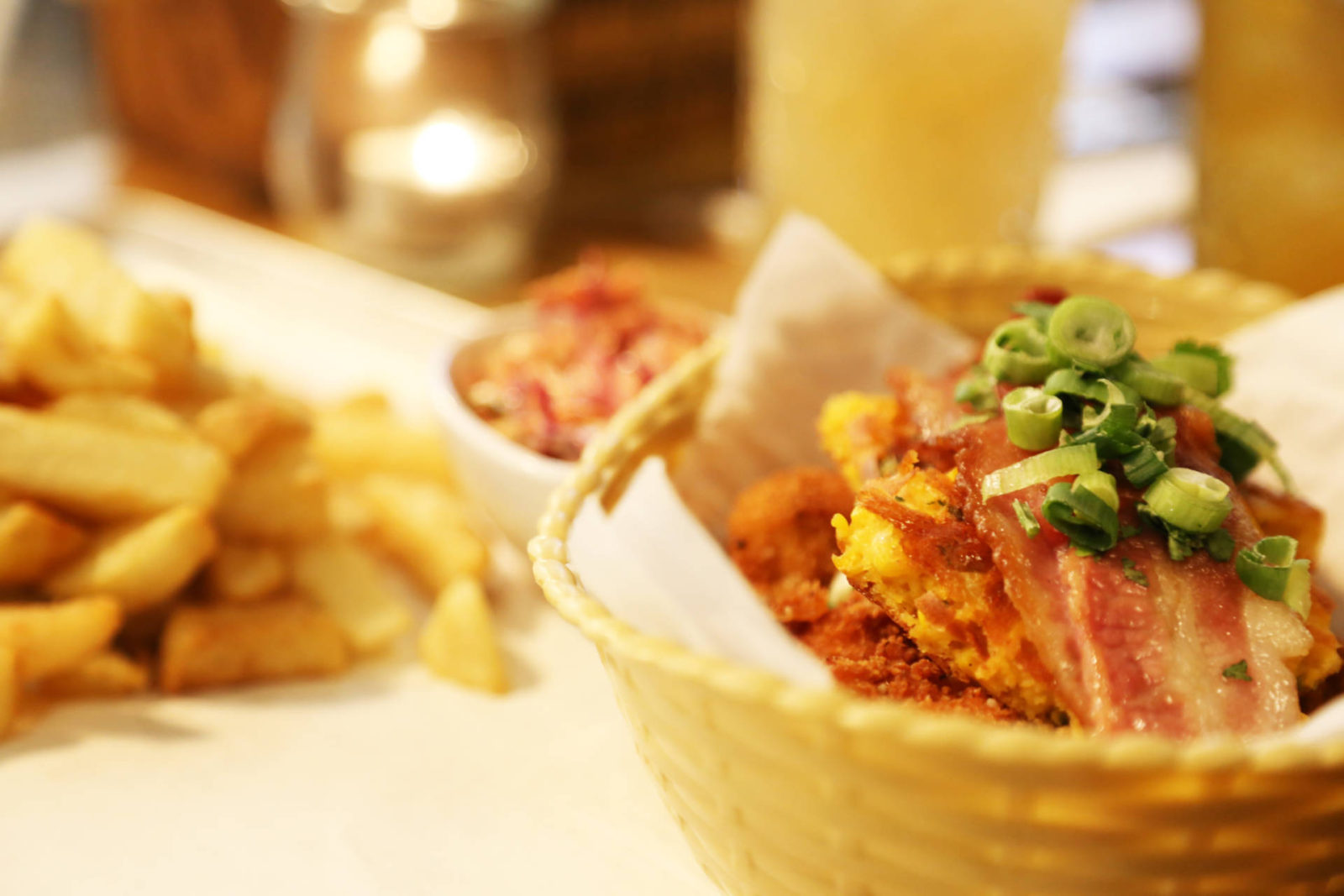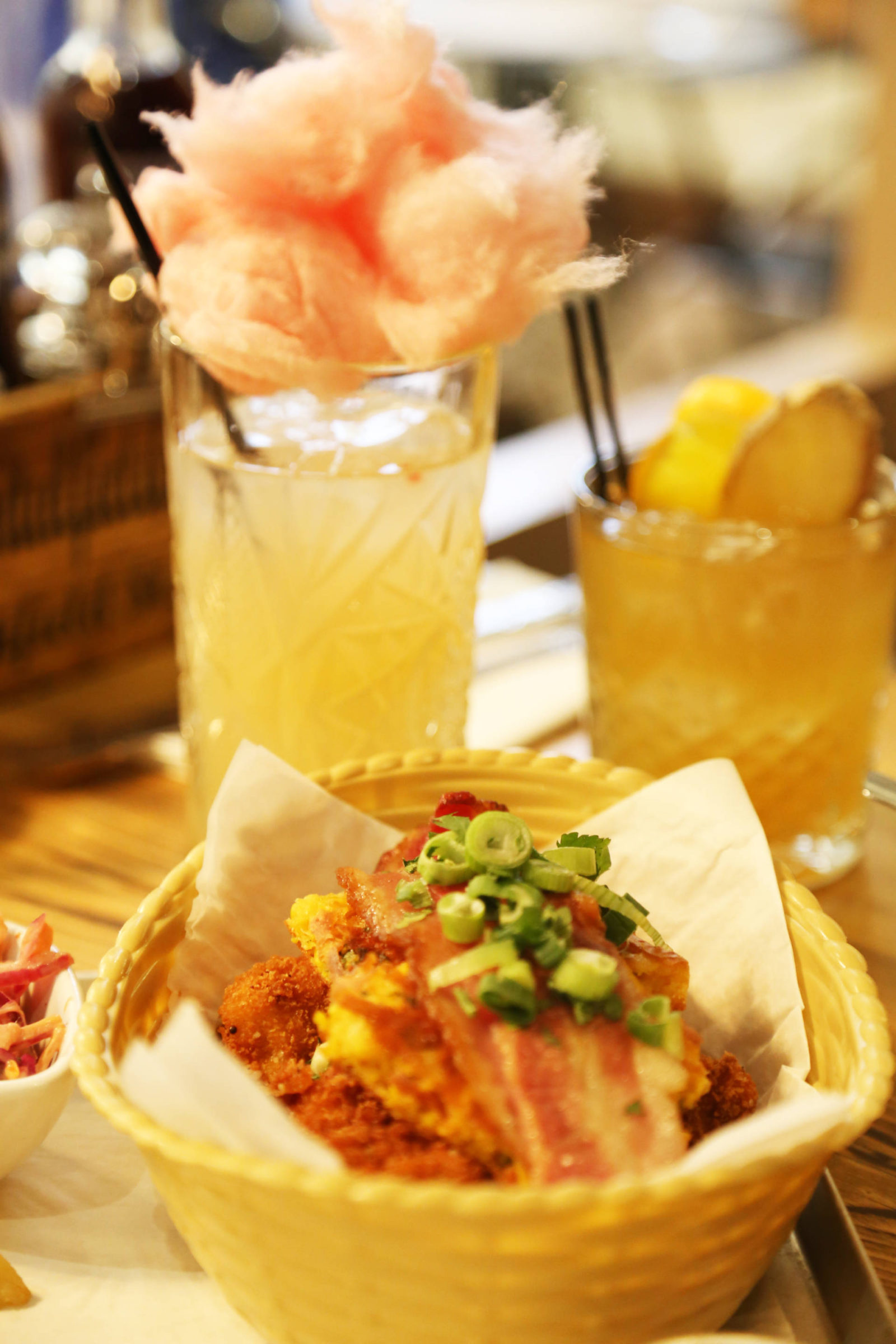 I went for the Chicken in a Basket, which consisted of tender chicken fillets in a light lemon pepper breadcrumb coating, served with maple grilled smoked bacon, sweetcorn pancakes, campfire slaw, twice cooked chips and a spicy chipotle mayo dip. I really enjoyed this but it was so carby! It filled me up rather fast (which isn't hard) and the bacon was divine. I love that the chips they serve are chip shop chips. It is a lovely touch that makes a difference. The chicken was extremely juicy and tender, and the sweetcorn pancakes added a different flavour into the mix that I really enjoyed.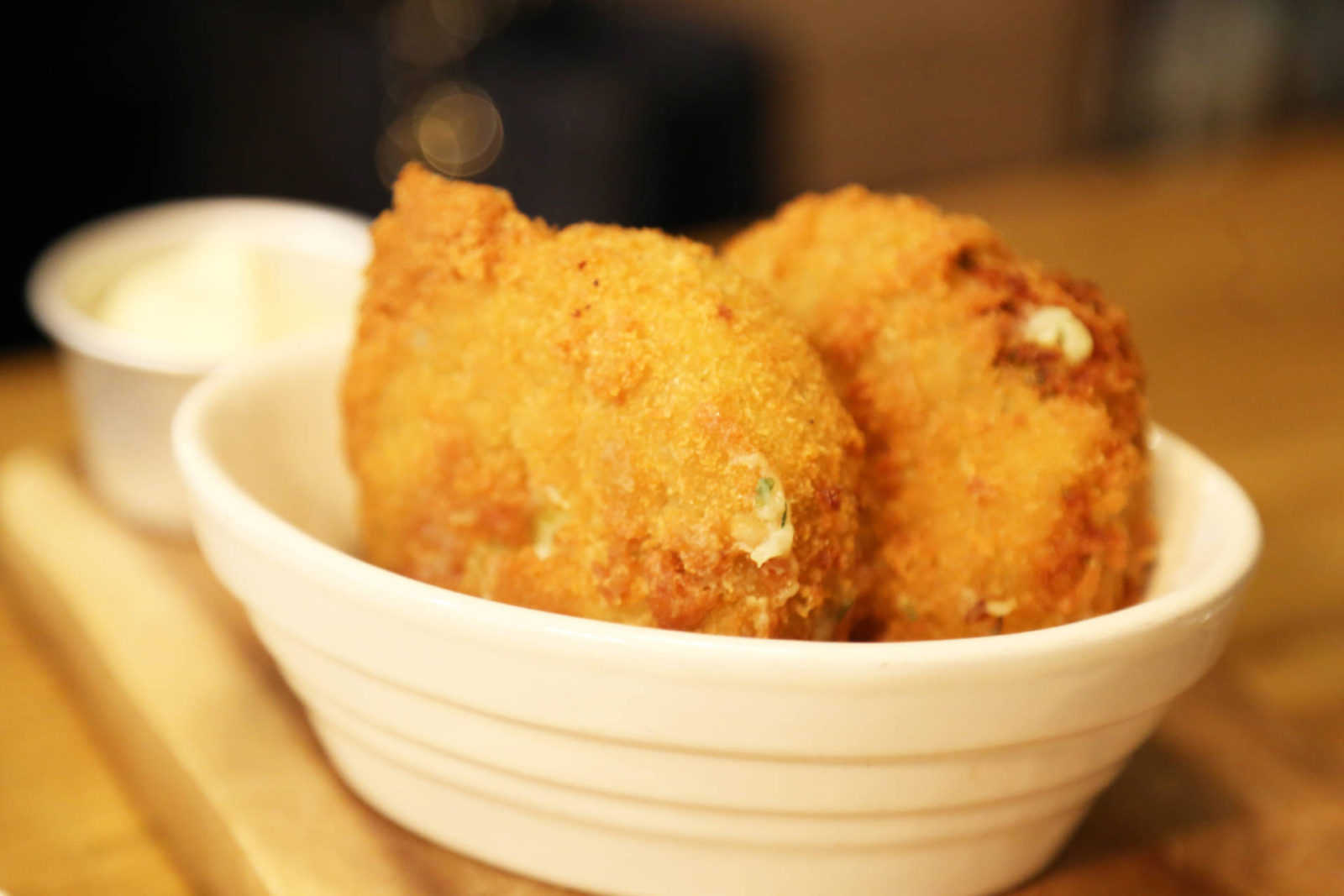 On the side we decided to share Very Cheesy Potato Croquettes. I don't know why we thought this was a good idea but we didn't realise how much food there would be. SO MUCH. The portions are huge and you absolutely won't be left hungry. Safe to say though, the croquettes were beautiful and indeed, very cheesy. I'm glad we tried them.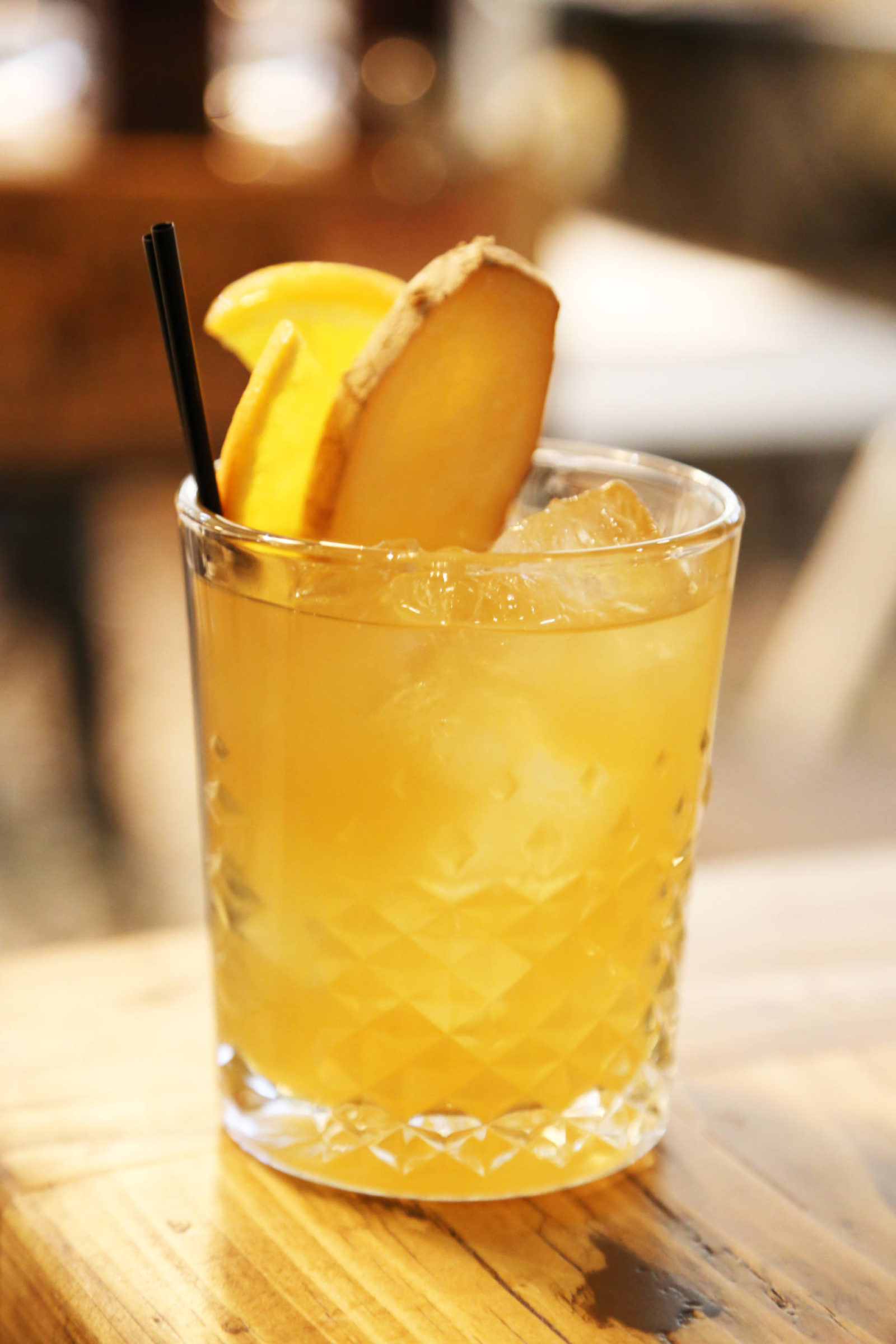 We waited for about twenty minutes until we decided we could fit in dessert. Gemma ordered another drink, the Drunken Sailor which is made with Sailor Jerry Rum, Disaronno and a kick of ginger from our very own George's ginger beer. Served in a rocks glass. It looked so refreshing!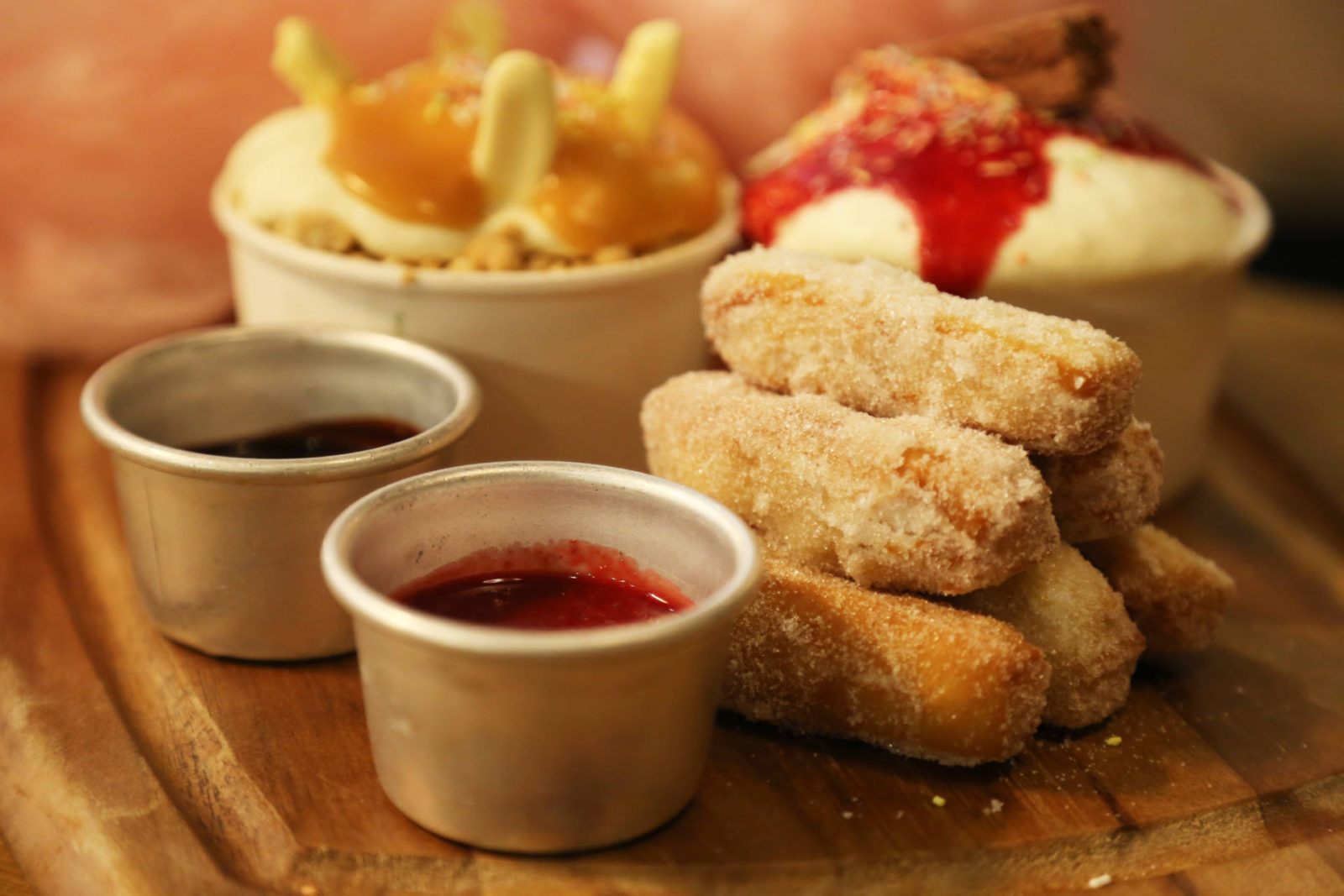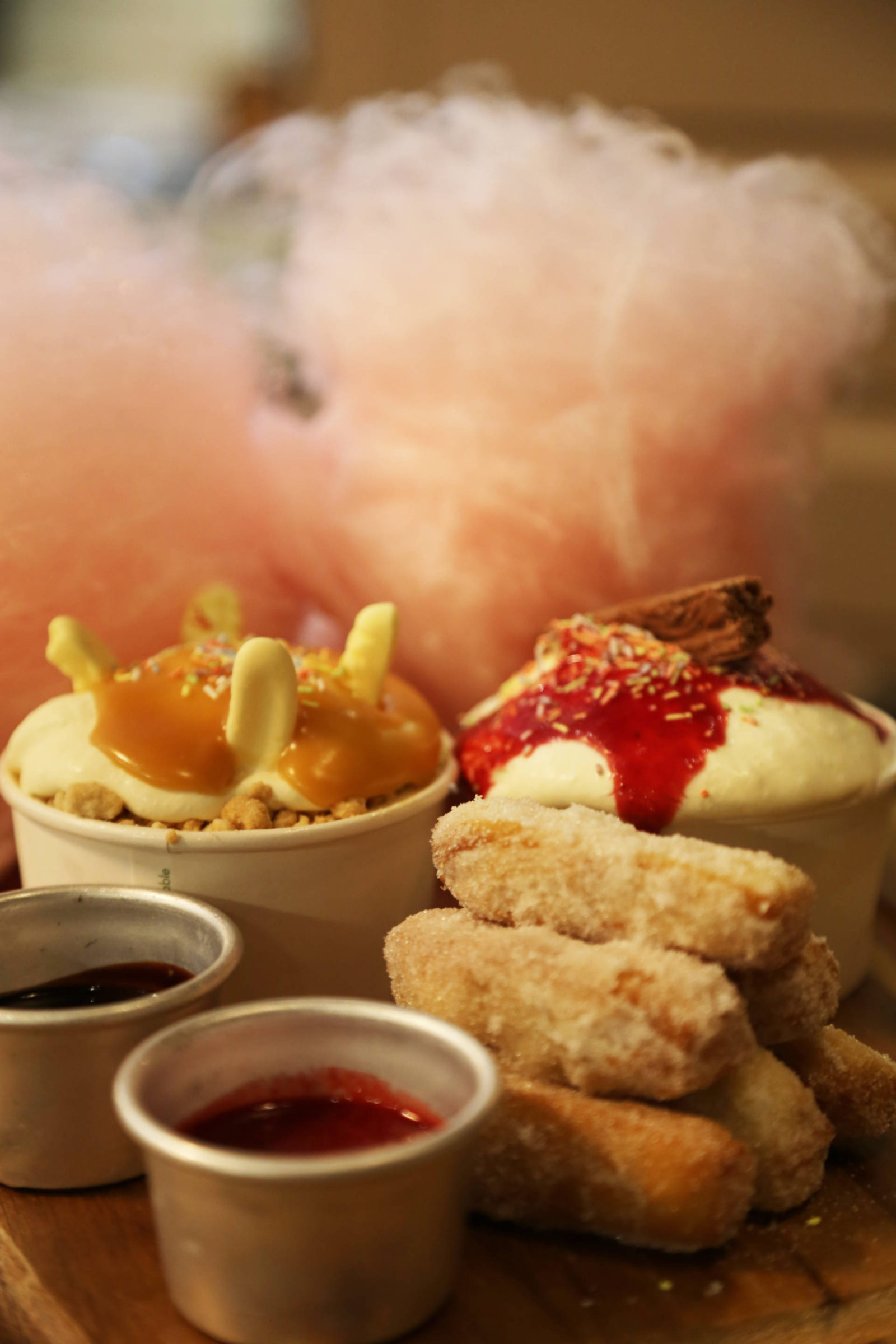 There was only one true choice for dessert for us. I'd seen this hundreds of times on social media and had my heart set on ordering this. Ice cream with Chantilly cream and a unique topping (we went for Banana and Vanilla), served with doughnuts, chocolate dipping sauce, raspberry dipping sauce and candyfloss on the side. Oh. My. Goodness. I'd love to take my nephews here as they would LOVE this. It's a sharing dessert, perfect for two people but I think it could absolutely feed three or four little ones. It was fantastic and I'd go back just for this dessert alone. I mean… just look at it!
I had a great time with Gemma at George's Great British Kitchen. I got to relive my childhood of living by the seaside and eat some amazing food. I'd like to thank them for letting me come along to review it. If pretty, good food is your thing, you have to visit here. It was wonderful. Next time, I think I'll go for the fish and chips!
George's Great British Kitchen can be found in Intu Eldon Square, Newcastle Upon Tyne. Find their menu here.
Thank you for reading 💕