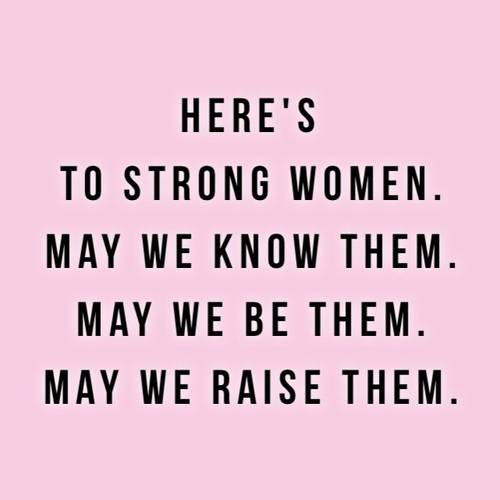 It isn't hard to find a women that inspires, and it usually starts from home. I'm so lucky to have grown up with inspiring women all around me and it has shape who I am today. I continue to be surrounded by women who are doing outstanding things with their lives and spurring me on to do the same.
The new friendships I make are different now, it's not based on interests – it's based on Ethos. Take my friend Laura, our interests aren't so similar (fashion, music etc) but we both strive to be successful, strong women and will support our friends to no end. We will do anything for them. In the past I have been burned by a lot of friendships and I now know who is worth putting effort into, and who isn't. The blogging community has connected me with a lot of fantastic women but Laura is a friend I never want to let go of. We haven't known each other long, but when you've met a friend for life, you just know. My success is her success, I want to help her all I can and we work together to create an amazing team. She is KILLING it at the moment with Ellefluence (Go sign up if you're a blogger!) and every business venture she embarks on, she gives her 100% and inspires me to work harder and wiser every single day. Chasing opportunities that come my way and making me more of a go-getter. She's my blogging big sister and I wouldn't be where I am today without her. Thank you Laura, for inspiring me and being such an amazing person.
My Mum has also played a huge role in my life, showing me that having a career and being a fantastic mother, it's not one or the other. You can have both and you can do it with pride. For most of my life now, she's been a single mother and worked hard on her own to achieve massive success. She has taught me manners, to always keep my back up straight and the most important thing – to be kind. I decided I didn't want to go to University and I wanted to pursue an unconventional career in blogging, she supported me all of the way and saw my potential and continues to do so. She is so proud of me and I'm proud of her. She has started her own blog too, so if you like travelling I'd suggest you have a little peek! (Honestly, she'll be so happy!)
It's not all about careers, though. Inspiration can come in many forms. I'd like to dedicate this post to my Auntie Mandy. She taught me many things in life who have shaped me and continue to stay with me as I grow. Mandy was absolutely a hugger, growing up around constant affection and love showed me the importance of appreciating each other, and showing that appreciation. Anyone who reads this that knew her, will agree that Mandy absolutely give the best hugs.
Mandy taught me the importance of friendships, being my Mum's friend for 50 years and growing up with that constant support has proved how detrimental it is to your wellbeing to be surrounded by people who care for you, support you and love you and to do the same for them. Mandy was always there for us, at the drop of a hat. I loved spending time with her and knowing the importance of maintaining relationships.
Confidence, strength and determination. Three things I wouldn't have without Mandy's constant influence on my life. She was soft, graceful and kind. The kindest person I've ever met and growing up with that influence isn't something I've ever taken for granted and I know how important it is.
Thank you, Mandy. For being the constant in my life that never let me down and has inspired me so much. I'm so happy that I made her proud and I hope I continue to do so. I love and miss her so very much.
To the other women in my life, Ashleigh, Georgina, Pixie, Mandy C, Katie, Isabel, Gemma, Chloe, Emilie, Maureen, Rebecca… thank you for supporting every single thing I do and always being there for me.
Happy International Women's Day. Please, take today to thank the women in your life for being there for you. Appreciate them, because one day when they're gone, you'll notice just how bloody great they were.