It's about time that Newcastle got a decent place to consume various forms of meat other than Longhorns (Sorry, Longhorns, you just don't do it for me…) that have a cocktail menu and focus on slow cooked meats. I jumped at the chance to review Red's and I shot them over an email asking if I could come along and tell you all what I thought.
As soon as we arrived and walked in, we didn't expect it to be what it was! It was huge, extending right to the back with another entrance out to the Grainger Market. With a huge bar, open kitchen and authentic American decor, I really loved the ambience of the place. The music they played was great, it went from Dolly Parton to my favourites… Foo Fighters. The music was a little loud, and my Mum isn't really a fan of a lot of the music played there as some of it was quite heavy classic rock, it's not a restaurant you'd go to have a relaxing meal at but rather some good food and drinks. It's very much meat, alcohol and rock music. For me, I love that but just be wary if you're taking someone who isn't into that sort of thing, although I think the food is enough to get them to forget!
Red's kindly provided my Mum and I with £50 to play about with and try the menu. We decided to order a cocktail each and try them out as they were keen for me to try them. A year ago I wouldn't dream of drinking with my meal, but now? Yes please.
Rum Punch – 6.95. Havana 3yr, Koko Kanu, grenadine, lime, pineapple, orange and Ting.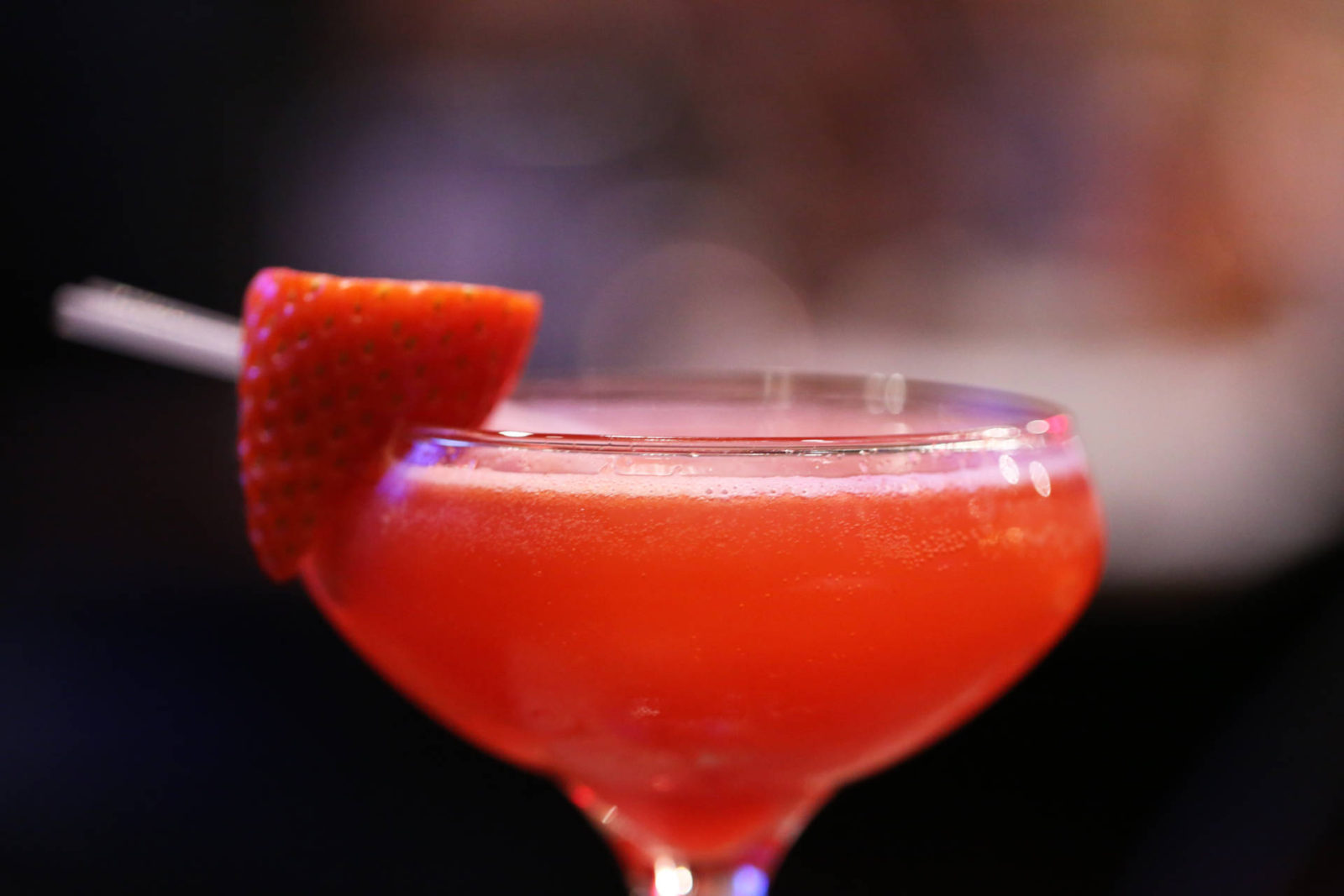 Strawberry Daiquiri – 6.95. A guilty pleasure perhaps? Havana Club, fraise, strawberries, and lime.
The drinks menu is extensive with lots to choose from. A healthy cocktail menu, milkshakes, virgin cocktails, ciders and obviously, plenty of IPA's. My brother in law would love this place. Rebecca, if you're reading this – take note. Now I get to find out if she really does read my blog ?. Both very happy with our drinks choices, we ordered our mains.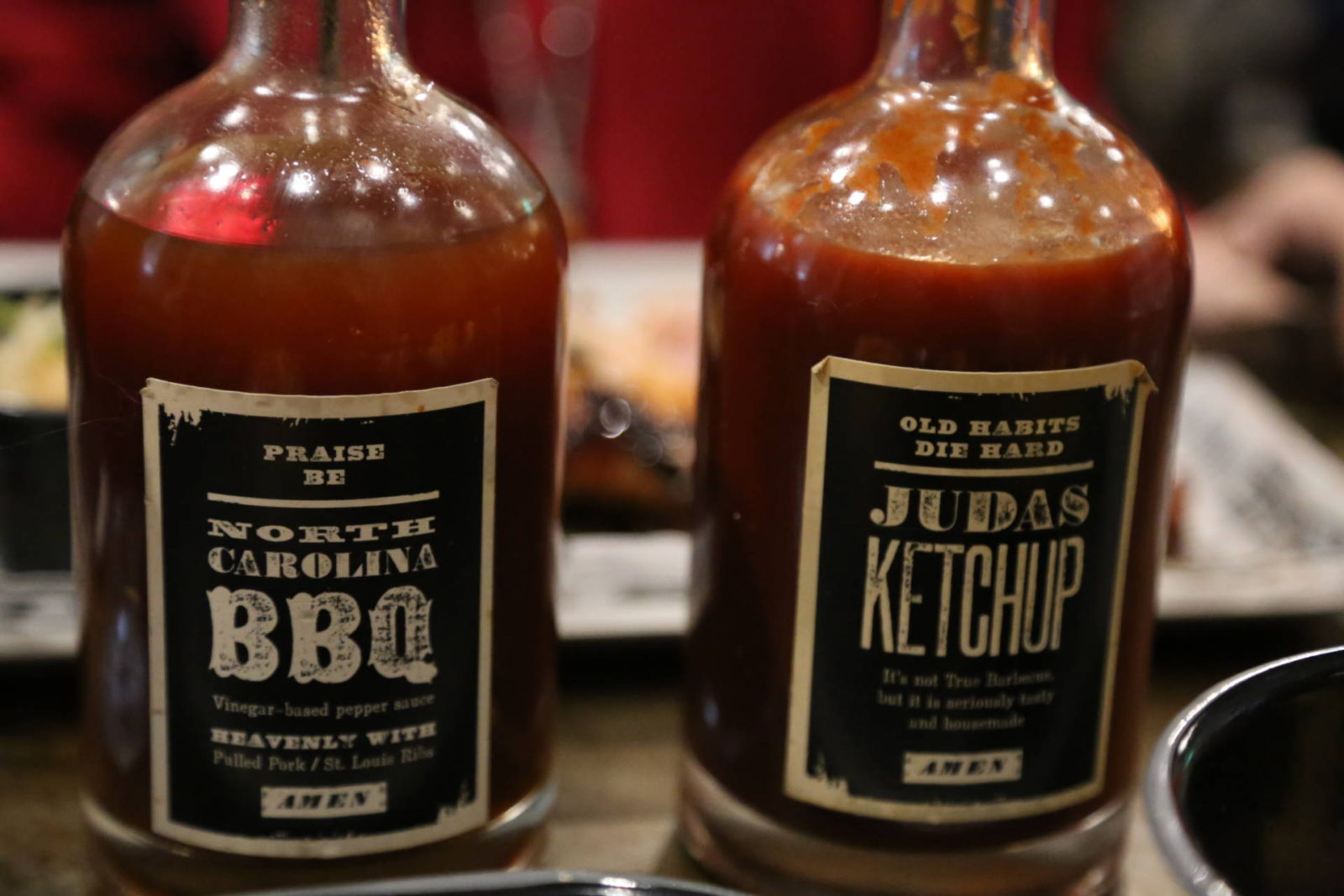 I love the fact that Red's had a BBQ sauce station where you went and picked your own. I tried two of them and although they were so tasty, I wish they were a little thicker! My favourite was the Judas Ketchup.
Now you'll know if you've read my blog before that I should be a contender for World's Smallest Eater. Seriously, it's mad how little I manage to eat, so places like Red's usually intimidate me as it's usually about the quantity of food served and I end up having to explain that no, I didn't hate the food, I just couldn't finish it.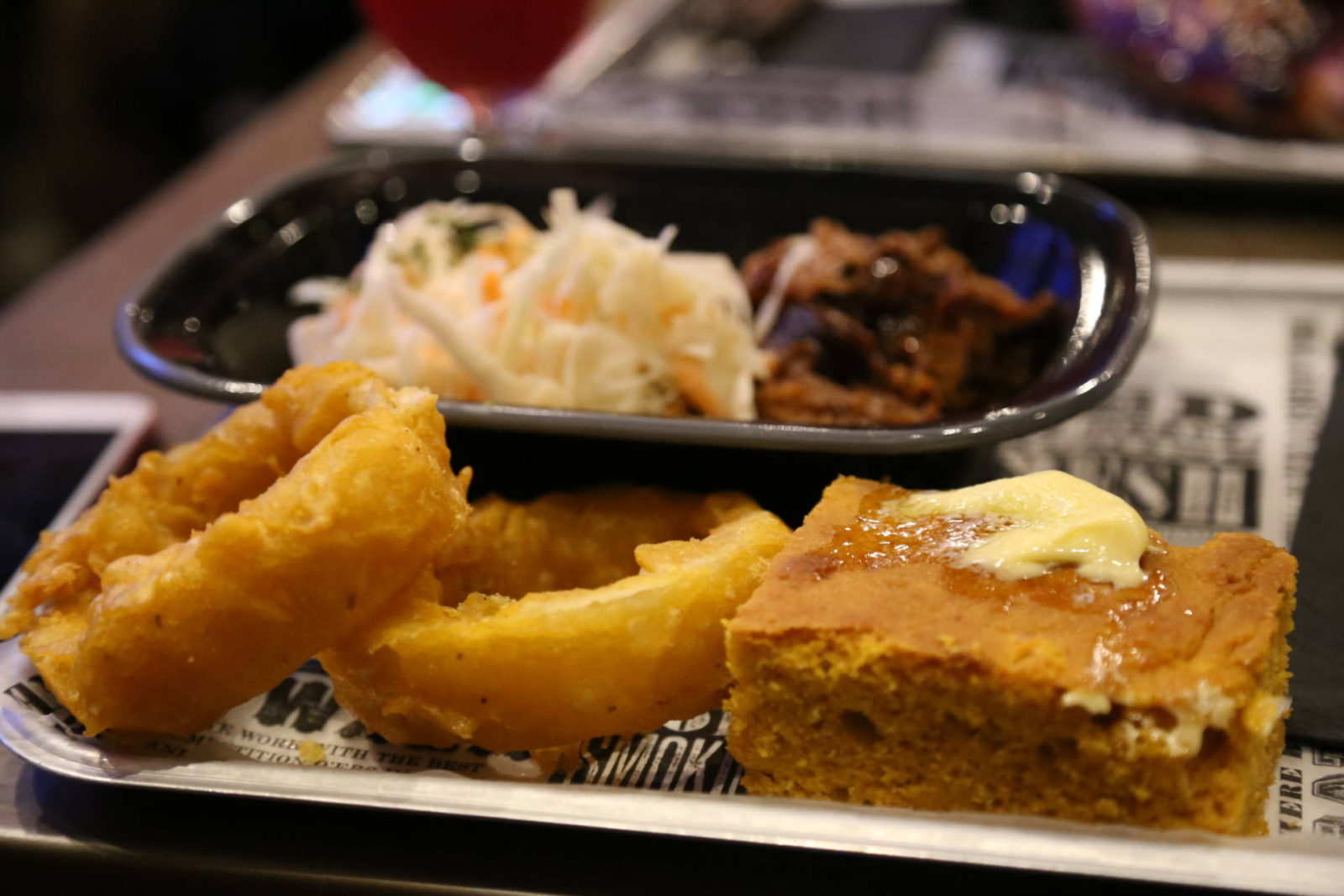 At Red's I don't feel as though the portions were huge, I ordered the Red's Pulled Pork & Slaw (9.95) which is Red's Pulled Pork and buttermilk slaw with apple sauce, cracklings and a Pickleback crust. I got two sides with this so I opted for Onion rings and Sweet Potato Cornbread. I'd never had cornbread before and although I really enjoyed it, I think personally it's better suited to a cup of tea. Too sweet for my own tastes to go with a main meal.  That said, it was really good and moist. The onion rings were crispy and I loved them, with just enough oil left on them.
As for the pulled pork? I have to be honest, I wish it was a little more moist. It was delicious, soft and fell apart with the fork but I just wish it had a little more flavour. I think I had expectations of it being a bit more BBQ-y. With sauce however it was purely the pork. Loved the slaw! If I were to go to Red's again, I think I would go for either a burger or chicken. Maybe trying different sides (BBQ pit beans sound amazing, I'm kind of kicking myself for not trying them!)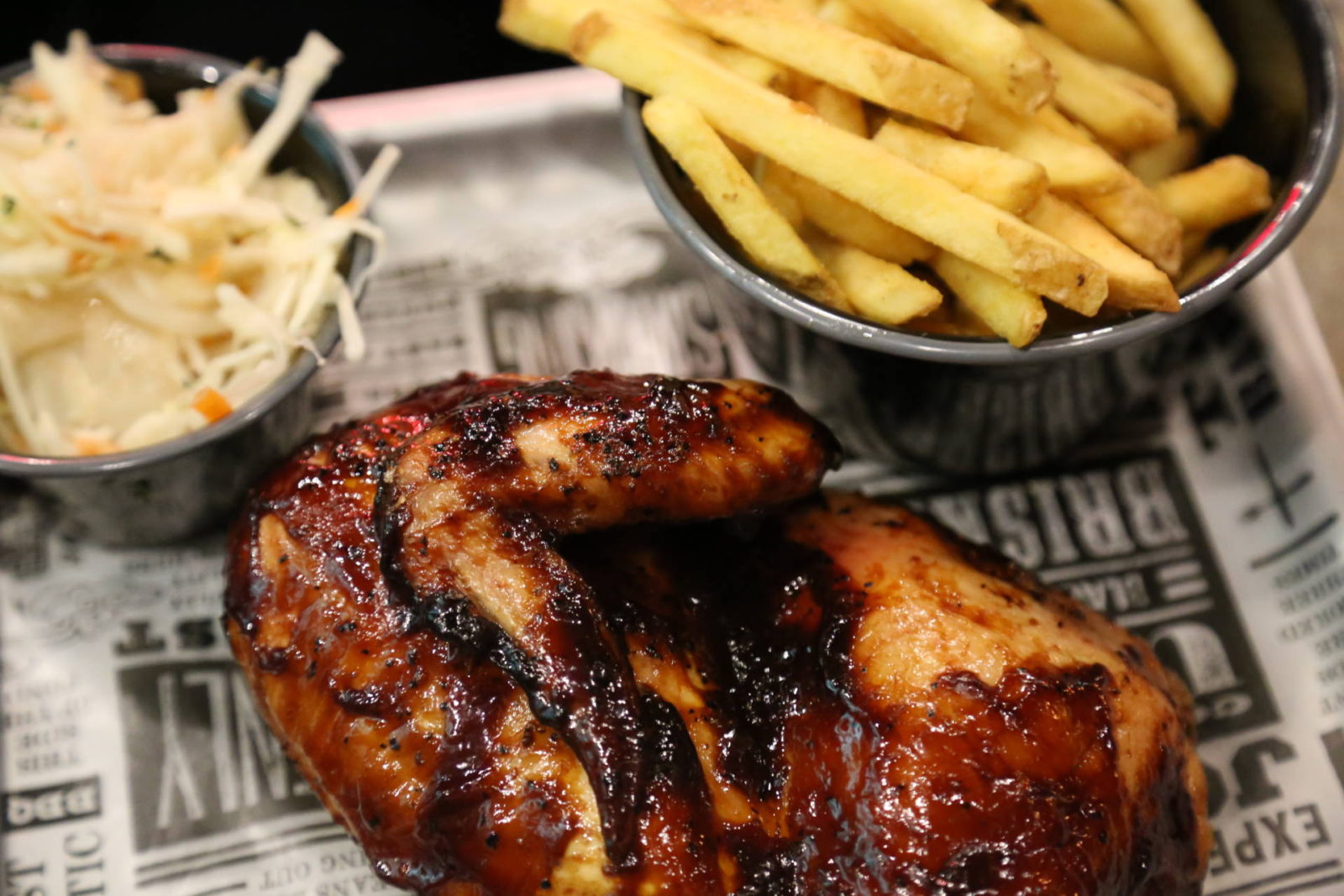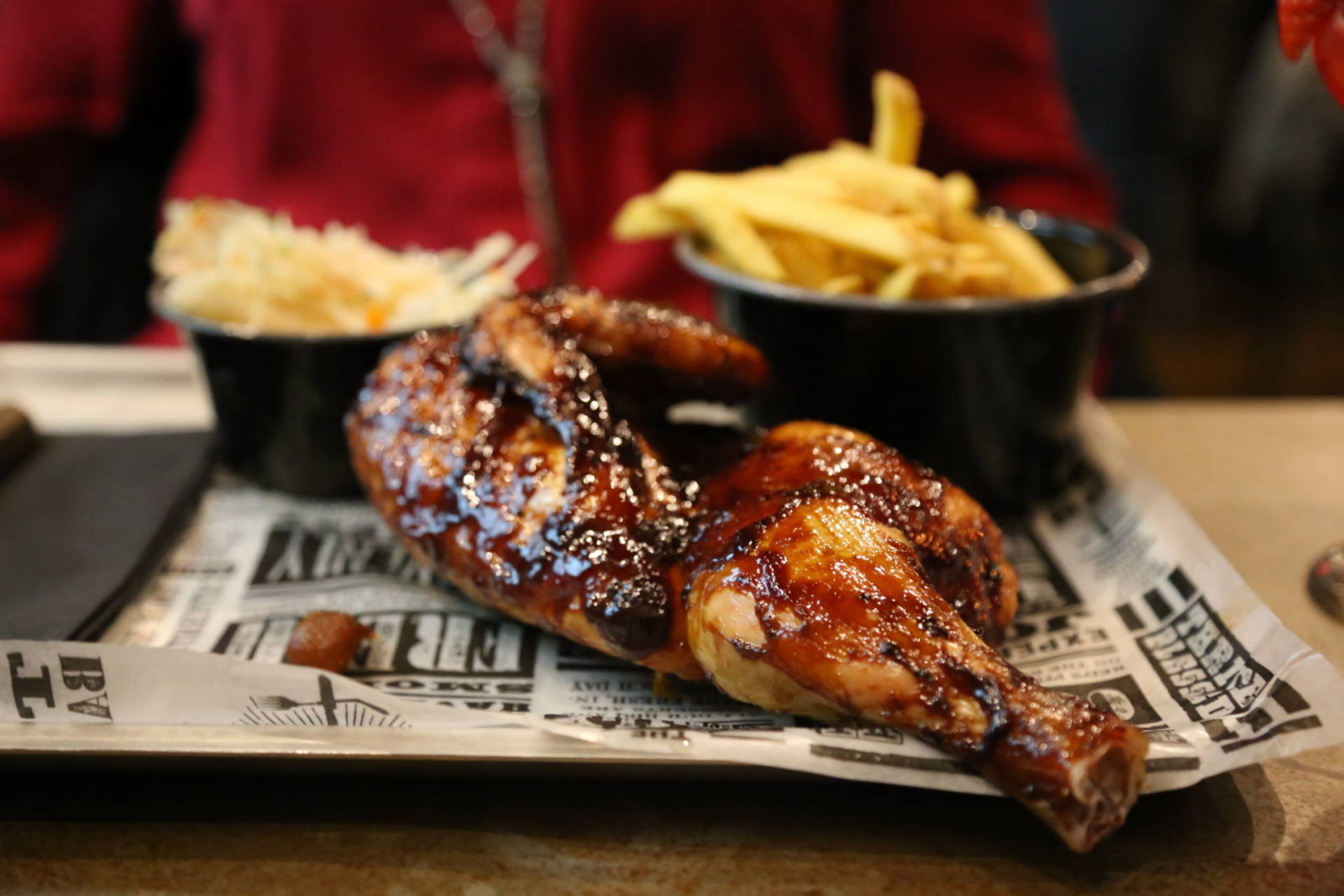 As for my mum, she ordered the Sticky Chicken – 12.95 which is 1/2 an oak-smoked chicken, with Unholy BBQ sauce. As for sides, she ordered fries and buttermilk slaw. She said it was the best chicken she'd ever had in the UK. Big statement for her as she can be pretty hard to please sometimes, especially at places like this as it isn't really her thing. But she really enjoyed this meal, which made me happy because who doesn't like making their Mam happy? I tried her chicken and it was REALLY good. I throughly enjoyed the little taste I had.
Our server was from Ireland so we were talking for a while about life in Ireland and discussing my Irish heritage, she was super friendly and we chatted for a long time which was so nice. The service was wonderful and I hope if I ever go back again, I'm served by her! (I wish I could remember her name, but I forget my own sometimes…) She suggested we try the
Red's Classic Chocolate Peanut Butter Cheesecake – 

4.95.
I'm not a huge fan of peanut butter so I wasn't too convinced I'd enjoy this… but I tell you. This is a dessert I'd go back for. I really loved it. Rich, creamy and perfectly balanced with the buttery biscuit base (ten points if you get the reference…) 
By the way, our bill came to less than £50… perfect!
Service 5/5
Food 3.5/5
Drinks 4/5 
A huge thank you to Red's for inviting me down, I'll be back to try the Lunch menu which is on Monday-Friday, 12-4pm. A main from the menu plus a bottomless drink and skin-on fries –  £9.95. http://truebarbecue.com/the-good-book/locations/newcastle/chapter/lunch/